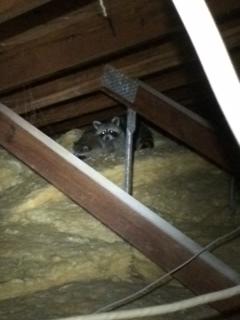 If you are in need of Emergency Raccoon Removal please call us immediately 540-229-6139 for our 24/7 emergency line.
Raccoon Removal is one of our most prominent services. Raccoons are found across Northern Virginia. We remove raccoons everywhere from Stafford, VA to Sterling, VA. Raccoons have adapted very well to the urban sprawl and have no problem living in places such as downtown Alexandria or Arlington. Raccoons will can be a nuisance in many ways. From raccoons destroying your attic to raccoons tearing apart trash can. Raccoons are mostly nocturnal but can be seen during the day. Raccoons can become aggressive when cornered. So never approach a raccoon and try to feed or pet the raccoon. Instead, call a trained raccoon wildlife professional.
Raccoons In the Attic
Raccoons in the attic is the most common call we receive for nuisance raccoons. In todays world in urban Virginia raccoons have had to adapt. They den in cavities such as hollowed out trees or in dens in the ground. Due to the destruction of their environment raccoons have adapted. This means raccoons have learned to live in attics and in crawlspaces. Most likely the raccoon you hear in your attic was born in another attic and their parents were born in another attic.
Raccoons are excellent climbers and can easily climb up on your roof. Also they are extremely strong, which allows them to rip through just about anything. Once the raccoon is on the roof he will look for an area that is easy to break through. Areas common to raccoon entry on roofs are the soffit, raccoons also use the eaves. Raccoons will even enter the roof through your ridge vent or other attic vents.
What to do if a Raccoon is in your Attic
First, do not panic. Give us a call so we can schedule a time to come out and asses the situation. First we will give a full home Nuisance Animal Inspection. One of the most important things to figure out is. How did the raccoon get in the roof. Normally raccoons will go through the eaves or through the soffits.
After figuring out how the raccoon enters the attic we will figure out how to get him out. There are two ways to remove a raccoon from your attic. One is through raccoon trapping. The other way is raccoon exclusion with raccoon one-way doors. We specialize in both raccoon removal methods. Both raccoon trapping and one way doors have their advantages and disadvantages. After the raccoons are removed from attic we will repair the entry point.
Raccoon Attic Insulation Contamination
When raccoons live in attics for any period of time there is always a threat of contamination of your attic space. This is why it is important to completely remove all raccoon contaminated insulation and materials.Raccoons contaminate insulation through their feces, urine, hair and other parasites. There are a number of different raccoon disease to worry about. Raccoon roundworm, Salmonella and leptospirosis are the more prominent of disease.
Raccoon Roundworm is a very infectious parasite that can be carried by raccoons. The eggs of the raccoon roundworm live in the feces of raccoons. When they are ingested into the human body they incubate and hatch. Raccoon roundworm in humans is hard to cure. It is best to get the entire attic remediated to protect yourself. Some studies have concluded that up to 80% of raccoon populations are infected with raccoon roundworm.
Raccoons use toilets in an attic. Which means a raccoon always uses the same area to relieve themselves. This results in large piles of raccoon poop in the attic and raccoon poop on the roofs. These raccoons feces must be remove along with the removal of contaminated insulation.
Raccoons in Attic Destruction
Insulation destruction is also a big factor with raccoons. They are large animals. As they move through an attic they will destroy any insulation in their path by matting it down or ripping it apart. In some cases raccoons will even pile the insulation in one place. This effectively destroys the insulations R-Value.
Raccoons also tend to destroy everything else in the attic as well. They destroy duct work and also raccoons chew on wires. Raccoons rip apart vents and baffles in the attic. After a successful raccoon removal the attic should always be looked at for excessive raccoon contamination of the attic. As well as destruction of other components in the attic.  The attic should then be re-insulated through a full attic remediation.
How to keep Raccoons Out After Removal
After a successful raccoon removal it is important to keep the raccoons out. Raccoon entry points are normally up high on your house. Raccoon exclusion and raccoon proofing should be left up to a trained raccoon removal pest control company. We us a variety of materials and methods to keep raccoons out. From repairing fascia board to installing new vents. All potential entry points should be made raccoon proof, even if they were not an issue before.
You can also help keep raccoons away from your home. Remove all bird feeders and wildlife food from around your home. Pet food is very attractive to raccoons so bring all pet food inside at night. Also trim all trees away from the house. Raccoons can climb gutters if they have to but most of the time start out by climbing a tree that touches the roof.
Raccoon Removal from Garbage
Do you have raccoons in your garbage or raccoons in your trash. Commercial facility with raccoons in your dumpster. There are a few ways to solve your raccoons in trash problem. Keep trash in raccoon proof containers. Keep trash inside until pickup day to prevent raccoons from tearing open trash bags. Make sure to keep all dumpster lids close. If none of these solve your raccoon in garbage issue then you may have to resort from trapping.
Remember raccoons can be aggressive and transmit many diseases. Always hire a trained local raccoon removal professional. It can get complicated when trapping raccoons around trash cans. There are normally more than one raccoon and it will take multiple trips. Garbage left out and compost piles will also attract raccoons toward your house. Making it more likely you may end up with a raccoon in the attic.
Areas we offer Raccoon Removal Services in are: Loudon County, Leesburg, Sterling, Reston, Great Falls, Ashburn, Herndon, Aldi, Chantilly, Centreville, Oakton, Vienna, Falls Church, Fairfax, Annandale, Burk, Fairfax Station, Clifton, Springfield, Arlington, Alexandria, Mounty Vernon, Lorton, Woodbridge, Gainesville, Haymarket, Manassas, Manassas Park, Dale City, Dumfries, Triangle, Bristow, Middleburg, Nokesville, Marshal, Prince William, Fauquier, Warrenton, Bealeton, Fredericksburg, Stafford, Garrisonville, Falmouth, Culpeper.