For 24/7 emergency bat capture and removal services call us now 540-229-6139 servicing Northern Virginia and surrounding areas. After removing the bat we will inspect the home to see how the bat gained entry. Then determine if a bat exclusion is necessary.
Bat exclusions and bat proofing are very specialized jobs. Make sure when you decide to hire a bat removal expert in Northern Virginia that you research around and make sure that the company actually specializes in bat removals. Bat exclusion can be an extensive project, you cannot just scare out bats then fix the entry point, they will find a way back in. Bats are also protected and cannot be indiscriminately killed. Bat eviction and bat exclusion should be performed without killing the bats. Jesse James Critter Gitters has certified bat removal specialists, we do many bat jobs a year and are an experienced bat removal comp
Bat Exclusion Basics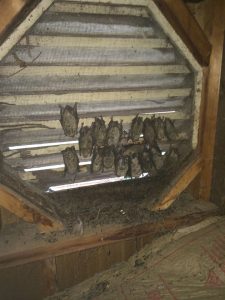 We always get the questions; how do I get bats out of my attic? Or, how to get rid of bats? Well what we do to get the bats out of your attic is seal up all the potential entry points to the attic. This is any gap on the house that is bigger than 3/8". As that is the size gap a bat needs fit through. Just think of a bat as being a mouse with wings.
After all the potential entry points are sealed up we install one-way bat valves over the main entry points and vent the bats out. They are all able to leave but not re-enter. It is very important to seal every bat entry point on the home first. Before venting out the bats because if not they will simply find a new way in. The bats are imprinted on your house, they will constantly try to get back in. If you close their front door they will scour your house for a new way to get in.
Sometimes people say they see bats going into their roof but they can't find them in the attic. Bats will move around in the attic over the course of a season, they may move due to heat or other elements. There may also be bats in the walls, this a common roosting point for bats and cannot be seen from the attic. Some bats stay in the soffit areas, these areas are also hard to see from the attic. So if you are seeing bats go in your roof, the bat colony is somewhere in the house. Some bats will even hibernate in the house over winter.
How to Get Bats Out
There are some main bat entry points we look for such as bats entering gable vents, bats entering siding gaps, ridge vents, construction gaps around roof and bats entering through loose soffit gaps. When we do our initial bat inspection we scour the entire home for any active bat sign or entry points. We use high grade materials to seal these bat entry points. All of our sealants are extremely elastomeric to allow for the building materials to move with the freezing and thawing. They are also made to withstand the exterior environment. Foam is not an acceptable way to keep bats out. Foam can damage building materials by putting pressure on them as it cures. It also cannot withstand the exterior environment and begins to degrade within a year.
We use galvanized steel wire to screen any vent that the bats may be able to enter through. We also use metal flashing, painted to match to seal out larger gaps that we can't use sealant on. First we seal up all potential bat entry points around the entire house. Then we install bat valves over the main bat entry points. Bat valves are one way devices that allow bats to fly out of the attic. They do not allow the backs to get back in. This all done without harming the bats. When we do a bat exclusion, we plan to do it right and use the best materials on the market.Therefore our bat seal up will last as long as possible. By doing this we have become one of Northern Virginias best bat removal specialist.
Bats Behind Shutters in Virginia
It is also common to have bats behind shutters in Northern Virginia. This is normally easy to figure out due to large amount of bat guano that accumulates on the ground below the shutters. There are many ways to get bats from behind shutters we use different options based on the type of shutter and how they are attached. Most of the time though if you have bats behind your shutters you will eventually have bats in the attic if they have not done so already. The best thing to do is if you have bats inside your home or roosting on the side of your home is to perform a complete bat exclusion and bat eviction on the entire home and force the bats to find a new place to roost.
Hire a Professional Bat Removal Company
Experience is the key to performing successful bat exclusions time after time. Bats in houses are nothing to play with. Our certified bat removal technicians are not only highly experienced with bats they also keep up with yearly bat removal training and bat exclusion seminars. We strive to be the best bat pest removal company in Northern Virginia. If you ever have to hire a bat removal company ask them for their certifications. Research them make sure they are a competent in bat proofing company. Bats in homes are very serious issues. They should only be dealt with by trained and qualified bat removal pest control companies.
We specialize in removing bats from the all over Northern Virginia including: Fairfax, Arlington, Alexandria, Manassas, Prince William, Loudon, Leesburg, Fauquier, Fredericksburg, Culpeper and the surrounding areas.