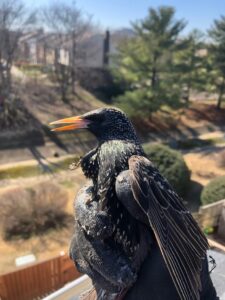 Birds attacking windows are actually very common. As one of the main bird removal companies in Northern Virginia we get hundreds of calls a year just for birds in windows. So, Why does a bird attack a window? It is quite simple really, they are most likely a male bird during mating season. Common species of birds in Virginia that repeatedly fly into windows are Blue Jays, Cardinals and Robins. In the reflection of the window they see what they think is another male bird so they decide to fight it. But the window always wins. The birds repeatedly fly into the window until sometimes the male bird is even knocked unconscious. So How to prevent birds from attacking windows?
There are a few things we can do as a bird control company to prevent these Kamikaze birds from hurting themselves. We use a combination of window covering and visual deterrents to keep the birds away. The window coverings will stop the reflecting of the windows, so the bird will not see himself. Then the bird deterrents will scare the bird away from your home; hopefully to find a better mate than a piece of glass.
Other areas birds attack
Birds hitting car mirrors
Birds hitting car windows
Birds in Storm doors
Birds in doors
Pretty much anything with a reflection.
Other Bird Removal Services
We are a full service bird removal pest control company covering all of Northern Virginia including Arlington County, Alexandria City, Loudoun County, Fairfax County, Prince William County, Fauquier County, Culpeper County, Stafford County and the City of Fredericksburg. We specialize in all forms of humane bird removal and bird control. From woodpecker control to birds in vents and even birds flying in houses. All of our technicians are state certified bird control experts and give the utmost respect to both the birds and the customer. When at all possible our bird removal techniques allow us to release the birds back into the wild.