We have all smelt it before, that smell of a dead carcass rotting around your home. Look no further we offer complete dead animal removal and carcass removal across Northern Virginia. For same day dead animal removal call now 540-229-6139. We remove everything from a dead raccoon, dead opossum, dead rat, dead bird, dead rodent, dead squirrel, dead skunk, dead deer or even dead livestock. There are a number of reasons stuff can die around your home. Some animals die from being hit on the road and wandering up in your yard. Others simply die from old age. But some animals die from diseases such as rabies, distemper or mange. It is not advisable to touch dead animals. As they could be the host to a number of contagious diseases and parasites. Leave it up to our trained dead animal removal specialist.
Same Day Dead Animal Removal
We know this is an unpleasant time so we strive to offer same day dead animal removal services. If you smell something dead on a Saturday you do not have to wait until Monday to get it removed call now 540-229-6139. We can also fog areas with deodorizers so we can get the dead animal smell to go away extremely fast.
Why call Us for Animal Carcass Removal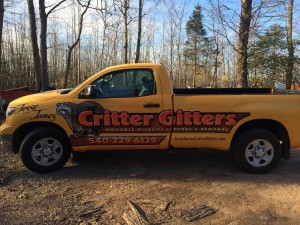 Most of the time you will not see the dead animal. You will just smell something dead in your house or start to notice a bunch of flies in a particular area. We can come out and find the dead animal. Some times it is simple to find them like when a deer dies in your yard or a fox dies under your deck. Other times it can be much harder to find the cause of the smell such as when a rodent is dead in the wall, a skunk is dead in your crawlspace or something is dead in your chimney.
We specialize in finding and removing these hard to get to dead animals wherever they may be. Rotting Carcasses also can cause many more problems, they attract other pest and insects. These other pest and insects can spread the diseases from the dead carcass. Fluids will also begin to leak out of the body and stain materials as the carcasses rot.
It is best to call Jesse James Critter Gitters as soon as you start to smell or see something dead so we can remove it. Preventing any future damage done by the rotting carcass or the pest that are attracted to it.
It is best to let a trained professional handle the dead carcass removal and cleanup. Proper suits and respirators at worn during dead animal removal when needed. We are trained to contain the contaminants/carcass. We can also disinfect and deodorize the area after the dead animal has been removed. Another thing to keep in mind is if the animal died in your house, how did the animal get in. After removing the dead animal from your home, we will inspect the home and figure out how the animal got in the house and how to stop it.
Animal Carcass Disposal
Dead animal carcass disposal is another thing we are able to do, you can not simply dispose of a dead carcass anywhere and you probably will not want to leave it in your trash can on a hot summer day. We have a number of locations that we dispose of dead animals that are licensed by the state to dispose of dead carcasses.
Dead Deer Pickup
We also specialize in dead deer pickup and removal. Deer die from a number of reasons in people's yard. Deer get stuck in fences, deer get hit on the road and some deer die of diseases. Yes, we have even removed a dead deer from a pool. Have you ever had County Animal Control come out and shoot an injured deer on your property? If you do they will leave it and not remove it. That is where we come in. We will remove the dead deer carcass and then disinfect the area the deer was laying.
We remove dead animal carcasses across Virginia including Loudon County, Fairfax County, Arlington County, Alexandria, Prince William County, Stafford County, Fauquier County, Fredericksburg and the surrounding areas.