If you have a snake in the house and you are in need of emergency snake removal service please call us immediately 540-229-6139 serving all of Northern Virginia. We provide profession emergency snake capture and removal services to Northern Virginia and the surrounding areas. For emergency snake removal, we try and get there as fast as possible to get the snake as soon as possible. Quickest snake emergency response times in Northern Virginia
Snake in the attic, snake in the living room, snake in the basement, snake in the car, snake in the garage, snake in the bathroom or snake in the house; call Jesse James Critter Gitters to get snake out.
Snake in the Basement, What do you do Now?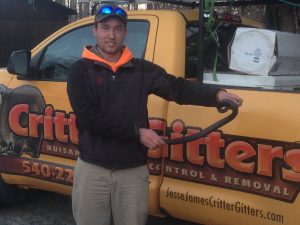 Snakes are always frightening to people when there are snakes in your house. Snakes in your garage or snakes in your yard. People always wonder who to call to catch snakes. We will humanely catch snakes and remove them from your property. Do not try and handle a snake by yourself, let a trained snake removal expert handle it. Snakes are not naturally aggressive but can be when provoked. The last thing you want is to get bit while trying to catch a snake in your garden. So, call a professional snake handler who is a trained  emergency snake removal specialist and specializes in snakes found in Northern Virginia. We are trained to tell the different species of snakes in Northern Virginia and the habits of the different snakes in our area; this will help determine the best way to keep snakes out of the house.
If you do find a snake in the house or a snake in the garden and want us to come remove a snake. Keep the snake contained to one area. Also, keep your eyes on the snake until one of our snake removal experts arrive. Snakes can easily fit into many tight spaces. It helps snake experts locate the snake if you already have a good idea of where the snake is.
After Emergency Snake Removal
First we will remove the snake. Then we can look at how a snake gets into your house. We will then give you multiple options to keep the snakes out of your home. We not only remove the snake but also figure out how the snake got in. Then we will snake proof your home.